The use of Non-Surgical Spinal Decompression (NSSD) is a well-recognized, safe, non-surgical and drug fee treatment for patients who suffer from Sciatica, chronic neck and lower back pain caused by disc conditions and other spinal related conditions.
Our office is equipped with a state of the art Hill DT non surgical spinal decompression table. It is a sophisticated approach in treating disc related problems. Yesterday was the day of using cables, pulleys and upside down tables to provide traction. Today is the day where we have combined today's computerized technology with spinal traction concepts, creating what we call "smart traction".
The Hill DT table employs sophisticated load sensor technology which constantly measures and monitors the treatment force and patient-resistance of every treatment. At a rate over 10,000 pulses per millimeter, the Hill DT actually senses the patient's approaching threshold and reduces the pull. This means that the Hill DT provides low-force, smooth decompression in a completely different class from cable-based systems.
HOW IT WORKS: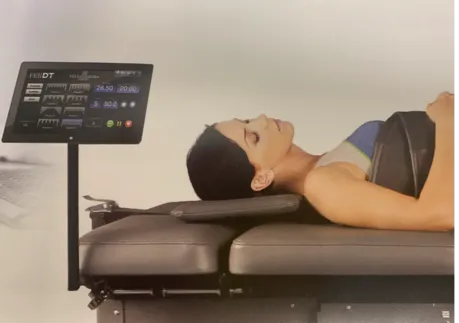 This Spinal Decompression treatment slowly and gently lengthens or releases pressure in the spine through repetitive movements by a customized medical table.
The table is programmed to create a pressure change with in the intervertebral disc, surrounding soft tissue and joints. The pressure changes allows the disc bulges or herniation's and nutrients to be pulled back into the disc. This re-hydration of the disc and surrounding tissues create a physiological change which accelerates and assists the body's natural healing process which decreases pain.
Patients typically experience improvement with in 24-30 treatments. Research shows that continued improvement is seen up to 4 years following the Spinal Decompression Therapy Program.